Short trips away from Senec
Tiger Sanctuary (10 minutes drive South) –  http://www.tigre.sk/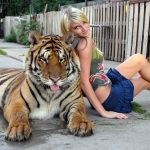 Good for a couple of hours, free entrance (but donations are expected). If you are lucky there will be some cubs playing, take care as the cages are not always locked with a padlock !
Even mentioned in the UK press:
http://www.dailymail.co.uk/news/article-3331936/You-barking-mad-German-shepherds-befriend-Siberian-tigers-Slovakian-wildlife-sanctuary-devoted-breeding-endangered-big-cats.html
Červený Kameň Castle (30 mins drive North) – http://hradcervenykamen.sk/?lang=en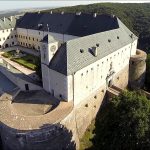 A nice 30 minute drive along the foot of the Carpathian mountain range. Tours of the castle in English at certain times, some weekends there are craft fairs and special events. A popular place for weddings.
Small/cheap/good restaurant at the entrance of the castle serves traditional Slovak meals (soup!) and coffeeshop inside, open year round.
Modra (25 minutes drive North) – https://en.wikipedia.org/wiki/Modra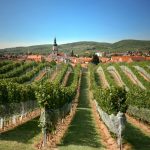 Nice town famous for its wine/vineyards, has an annual wine festival in September (with Police waiting to do breath testing as you drive home!). Has several good restaurants in the centre.
You pass through Modra if you are going to Červený Kameň castle.
There is  a very good restaurant between  Modra and Červený Kameň (on the main road, it looks like a concrete prison, you cant miss it) http://www.elesko.sk/ . There is an art gallery attached.
Jelka Watermill (25 minutes drive South) –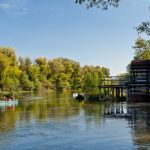 Watermill along the small danube river, good for paddling/swimming in the summer as the current is very small (not like the big danube!), cheap restaurant next to the mill or nice fish restaurant close to the watermill (Reštaurácia V Siedmom Nebi Fish Restaurant ) with views of the fish farm (they serve fried cheese for vegetarians!)
Voderady Outlet Mall (20 minutes drive East)  – http://www.outletvoderady.sk/en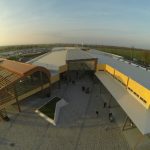 Outlet mall next junction East on the motorway from Senec (signposted Voderady Outlet). Not big but has many popular clothing/shoe shops (Adidas, Nike, Gant etc) at good prices (compared to Bratislava). Open all day at weekends.
Good Italian restaurant in the mall
Šamorín (30 minutes drive South) –  https://en.wikipedia.org/wiki/samorin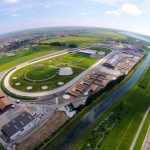 A town set on the banks of the main Danube river. Head to Hotel Kormoran (easy free parking) and walk through the nice park to the river. There are goats and a glass bridge along the way. Watchout for bicycles along the footpath. Good place to collect driftwood from the river.
Hotel restaurant is good when they have monthly seasonal promotions (Asparagus month, wild game etc)
If you like horses there is a new equestrian centre xbionicsphere by the river (it looks expensive though 🙁 )