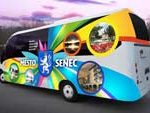 NOT RUNNING IN 2020 DUE TO COVID-19 – Free Bus around Senec town runs at regular intervals, it has "Mesto Senec" written across the side. Timetable is here: http://www.senec.sk/index.php?doc_id=1383. The apartment is at stop 12=Železničná (Žel. stanica)=Train station. The bus station is stop 1. In the morning it will take you to the bus station in 9 minutes (1/3 of the walking time). It runs on time (sometimes a couple of minutes early !)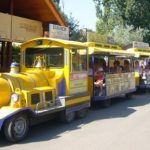 Road Train, in the summer season (July+August) a small road train goes around the lake/to the town, cost is €1 per trip, its a good way to see the lake if you dont like walking or its too hot, nearest stop is 100m from the apartment.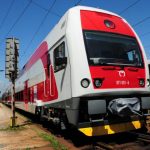 Trains to Bratislava run around every hour and take between 22-28 minutes depending on how often they stop. Single adult ticket is currently €1.32, its not any cheaper get a return ticket. You can download the IDS BK app to your phone and buy tickets direct on your phone (in English), its also 10% cheaper. You can check the train times at these sites:
http://cp.atlas.sk/vlakbusmhd/spojenie/  < This site shows train delays in realtime
http://www.slovakrail.sk/en.html
There is an English or German language button near the bottom of the screen
Enter Senec in the first box and Bratislava hl.st. in the 2nd box, this is Bratislava main station (there are a few other outlying stations also called Bratislava something)
The last train back in the evening is just after 11pm, the next one is 4.44am which is perfect timing if you've been to some clubs 🙂
Best to buy a ticket inside the station at Senec (you can buy the return ticket there as well, probably they will ask you), its always open when trains are running. You can buy a ticket on the train but there is a penalty of €1.50 per ticket if the ticket office was open at the time of travel.
Children under 6 are free (no ID needed), children aged 6-15 are also free but you have to provide a passport and photo to get a train card (its too much effort unless you are staying along time). Child fare to Bratislava is around €0.77
Seniors from EU (including UK at the moment!) over 62 are also free but again too much effort unless you are staying a long time so unless you apply for a rail card the fare is the standard €1.32 each way

Stamp the ticket in the orange machine by the platform
Bus to Central Bratislava will take around 30 minutes. Buses leave either from the train station or the bus station (Senec Bus Station Location). Company is Slovak Lines
Slovak Lines Website
Select REGIO at the top tab
Senec ,aut.st is the Bus station(Senec Bus Station Location)
Senec, žel.st. is the train station by the apartment (there are several stops along the road by the train station so check on the display which is the correct stop to wait by
BA, AS is the main bus station in Bratislava, its a 10 minute walk to oldtown from there
Taxi to Central Bratislava will take around 30 minutes and cost €25 upwards depending on where in Bratislava you are going
Taxi to Bratislava airport will take 20 minutes and cost around €25.
In the morning or evening weekday rush hours (7-10am and 4-6pm) allow an extra 30 minutes.
We use Skorpion Taxi who are based 3 minutes from the apartment, they are not the cheapest but they are reliable and safe. When telling them your location is best to say "Lobster restaurant" and meet them at the junction with Lobster.
To/From Vienna/Vienna Airport is easiest by Bus/Coach with a change at Bratislava Bus station ("Bratislava AS"). Total travel time from the apartment to Vienna airport is around 2 hours allowing for bus connections/traffic. There are multiple bus companies which can be booked online and support e-tickets (Flixbus, Eurolines).
Parking in Senec, there is plenty of free parking or paid parking if you want to walk less (20 cents for 30 minutes) in the town (you can download the ParkDots app or pay via SMS (if you have a Slovak phone)). The paid areas are all to the north of the pedestrian street (near the Cinema/townhall) and also opposite Marathon resturant. Payment is only needed from 8am-6pm weekdays and only 8am-Noon on Saturday, Sunday is free.
Parking at all the supermarkets is free, and parking on the road near the train station is also free.
Parking inside the lake near the buffets – This is €3 per day (ticket machine) but if you leave your lake pass in the car window the parking is free.
The blue gate near the apartment is open 03:00 to 09:00 each day so if you get up early you can move your car to Lobsters car park (its free parking) and avoid driving round the lake later on.